The launch of the new Annabel's club in Berkeley Square had been hotly anticipated, with a rumoured £55 million spent on the refurbishment of the private members club.
One of the exciting spaces within the new club is 'The Garden Room', with a curved retractable roof. The centre piece of 'The Garden Room' is a feature tree.
LCI were commissioned by Isometrix Lighting Design to create a projection mapped artwork on the central tree and surrounding trees. The timeline for the project was challenging as the project was commissioned two weeks before the intended launch date.
The tree was 3D scanned using photogrammetry to create a 3D model for content creation. Projection tests were conducted at the venue with a combination of different projectors. The final scheme utilised ten projectors, a media server, media players and show control.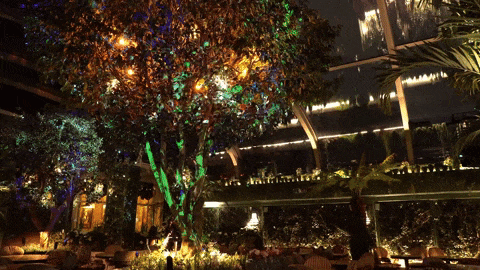 Fairies, butterflies, dragon flies and humming birds fly from branches to branch delighting guests.
The content also creates stunning patterns and textures which wrap and swirl around the tree branches and canopy, giving diners a unique and magical centre-piece to enjoy.
As the guests enter the Garden Room they see interesting light textures on smaller trees, before seeing the stunning centre piece, which they can enjoy while having drinks and dinner in the exclusive restaurant. The feature was launched at the Vogue Fashion and Film Party on the 18th February, a Post BAFTA party.
For further information about Annabel's club visit their website: http://www.annabels.co.uk/
---

Get in Touch
---