Live Performance Show with 3D Projection Mapping and Holograms at the Cannes Film Festival.
De Grisogono commissioned LCI Productions to produce a spectacular show for their exclusive VVIP Party at the famous Cap Eden Roc Hotel during the Cannes Film Festival.
It was important that the show design did not block the view out onto the bay from the Eden Roc. The show set design featured two 3D projection mapped rocks that framed a large hologauze. The hologauze provided an unencumbered view of the bay full of super yachts. LCI also designed and delivered stage lighting for the fashion models during the show.
LCI designed a full show that featured a set of two towering rocks with a hologauze hung between them. A green screen film shoot of fashion models and the £25 million jewellery collection was combined with virtual sets and motion graphics to create stunning video mapped illusions and hologram effects.
The purpose of the party was of course to promote the stunning jewellery created by de Grisogono. LCI Productions arranged a film shoot in London, with jewellery and models provided by de Grisogono. Security was of uppermost importance at the shoot, with millions of pounds worth of jewellery in the studio. The jewellery and the models were shot in adjacent studios. The fashion models required a large green screen studio so that the footage could be integrated with CG content and used to create holograms and be part of the projection mapping.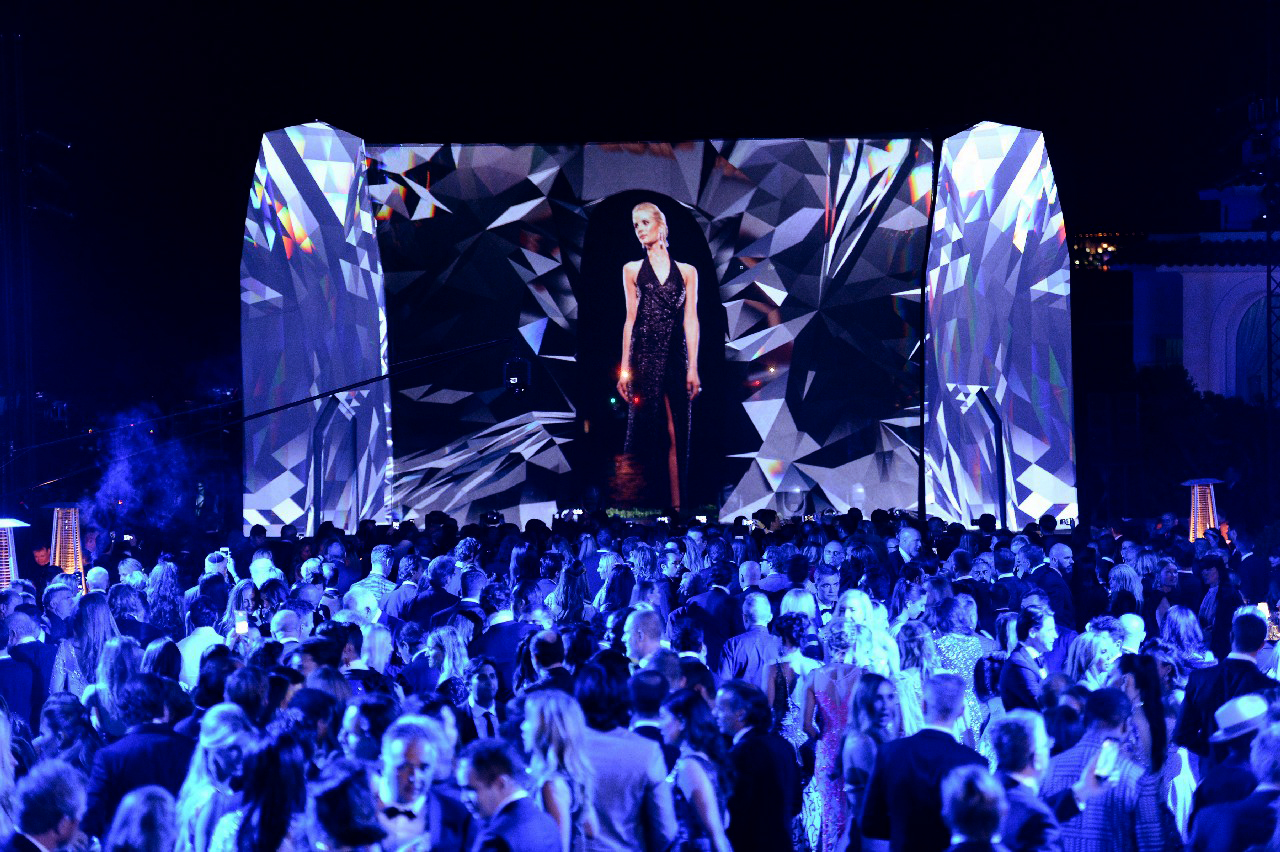 LCI's hologram on hologauze stage at a de Grisogono fashion show
LCI designed the show for the client, creating a music track and developing a storyboard and animatics to gain approval at every stage of production. The footage from the shoot was integrated into motion graphics created by LCIs animation team. The 3D projection mapping content was built to fit the 3D Set which was designed and supplied by LCI.
The deadlines were tight. As the production equipment made its way to the South of France the show was being finalised. The setup at site was also on a tight timescale to minimise the disruption at the exclusive hotel, with a two-night build with rehearsal prior to the show. The fashion models from the video shoot were flown in to be part of the show, transitioning between being holograms on the screen and being live on stage.
The LCI team were assisted in delivery at site by the event production company Tuff Event Agency, who produced the party.
The show was a great success featuring the new jewellery collection from de Grisogono worn by the models on stage, while surrounded by 3D projection mapping and holograms and watched by the by many famous guests from film, television, sport and fashion, in the glamorous setting.

Get in Touch
---
Show Design – Audio Design – Motion Graphics – Set Design – Lighting – Design & Production – 3D Projection Mapping – Holograms – Story Boarding – Production Management