LCI WERE COMMISSIONED BY UTOPIA ENTERTAINMENT TO CREATE THE WORLD'S FIRST 360 DEGREE WATER SCREEN SHOW.
An evening show in a theme park provides a great return on investment, keeping guests entertained until the end of their visit, enjoying all the facilities your park has to offer. It also brings guest to a focused point in your park.
The Symbio concept was developed by Utopia Entertainment, based on the Taoist symbol of Ying and Yang, and the story of two fighting dragons creating the world. The show is located in the lake in front of the grand aquarium in Aqua City, and features the world's first 360 Water Screen. The central screen feature is surrounded by further water effects, flame effects, lighting and fireworks.
The show is set to a sound track and depicts the fight of the two dragons on the water screen. The screen switches between being a projection surface and a dancing fountain that changes in shape and moves in harmony to the music track. This is further enhanced by the surrounding effects. The flame on water effect in the show is one of the largest in the world.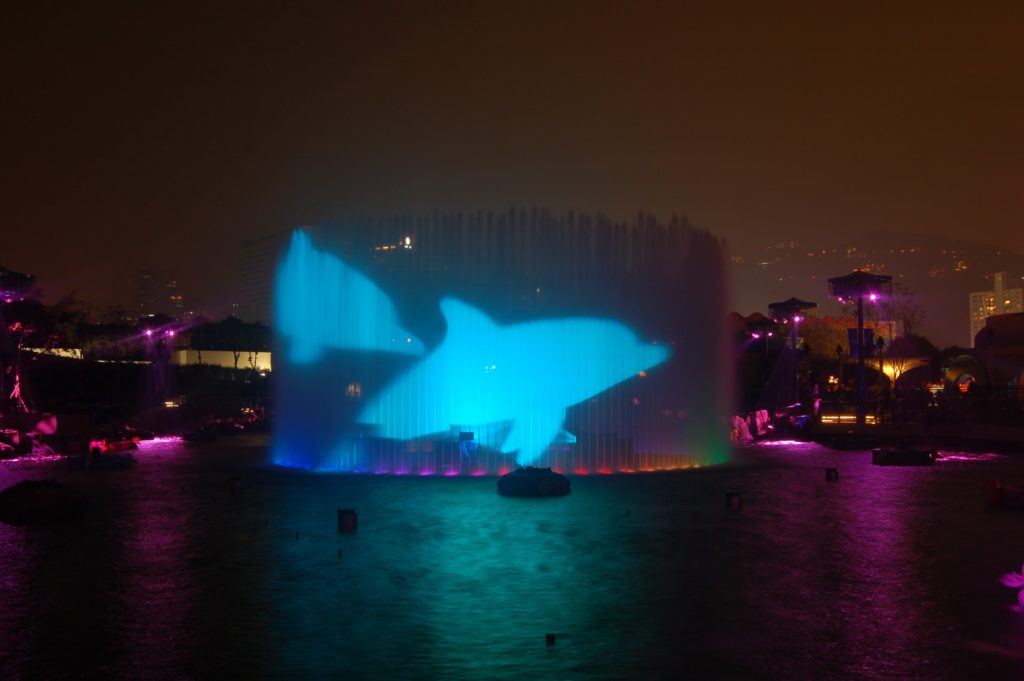 Symbio at Ocean Park, Hong Kong – Water Show Spectacular
LCI were commissioned by Utopia entertainment to design, develop and deliver the first ever 360 Water Screen, with surrounding water effects. LCI also designed and delivered the show control, and provided the full on site creative and technical programming teams.
The CG animation for the show was also developed and created by LCI. The show provides a wrap up for visitors to the park and attracts nightly audiences in excess of 5000 people.
---

Get in Touch
---