Award-Winning Walk-Through Attraction Following the Adventures of Early Man. The caves in Cheddar Gorge, Somerset, which were discovered in the 19th century, have always been a tourist attraction. Further interest was generated due to the discovery of a full human skeleton, with an age of greater than 9000 year old in Gough's Cave in 1903.
The Cheddar Gorge management asked LCI to look at the Cox's cave to consider how to develop a new attraction, which would be entertaining and explore the prehistoric history of Cheddar Gorge.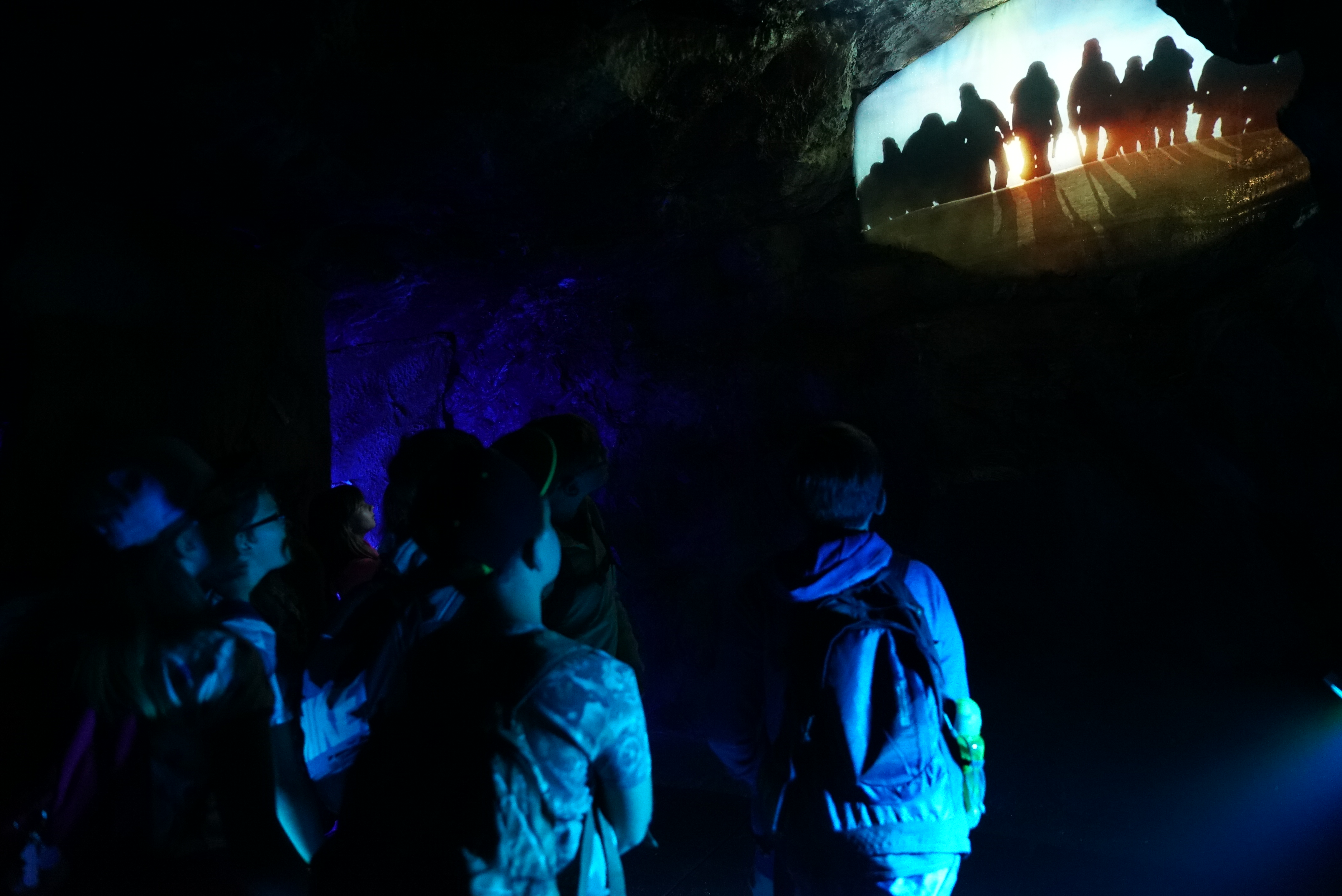 Immersive Cave Walk-Through Experience
LCI developed the Dream Hunters Concept (The adventures of early man) which was well received by the Cheddar Gorge team. The experience was designed to fit within Cox's cave, creating eight experiences within the cave, after the pre-show.
The show poetically explores the rise of man, and how the experiences of pre historic man shape who we are today. The experience utilises projection mapping, lighting and audio in each chamber of the cave. The projection is mapped to the natural rock forms and stalactites and stalagmites. The experience builds to a finale in the last chamber with a wraparound projection mapping enhanced with lasers, lighting and wind effects, in which the ascent of man is celebrated.
The experience takes you out of time to consider the human experience, as a pre historic man, in a world without technology, where you must live by your wits, and develop new skills, develop art, hunt and form families and communities.
The design concept was approved in December 2015, and the show opened to the public at Easter 2016. It was a difficult timescale for delivery in a space where there were no straight edges. The attraction has received good reviews, and has been awarded a Brass Ring by IAAPA for 'Best New Product (Shows/Productions)'.
The project was a delivered as a turnkey attraction for Cheddar Gorge, with all aspects of design, delivery and content production provided by LCI Productions.
"We wanted to create a more creative and modern experience at Cheddar Gorge for our guests, which are very diverse; from all countries and of all ages. We're proud to add 'Dreamhunters' to our attraction and have been overwhelmed by positive feedback from both new and regular guests."

David Gillingham, Head of Operations at Longleat for Cheddar Gorge
Find out more at: http://www.cheddargorge.co.uk/explorer/dreamhunters

Get in Touch