The first "Our Planet" fully interactive visitor centre was launched at the beginning of June 2011. The centre contains a range of exhibits and interactive displays seeking to promote awareness of the conservation of the Earth's environment.
The centre was first conceptualised by the Our Planet Directors Pablo Rosenthal and Sarah Adams, who chose us as their design partner in all aspects of the project, from content to delivery. The centre is located in La Place Caranage in Castries, St Lucia.
Two floors of the existing building were redeveloped to hold the new attraction, which included interactive displays, holograms and various projections.
Many innovative techniques were used to create the different "zones" within the centre, and all the content for Our Planet was designed and produced by LCI at their studios in London.
"Our Planet Centre seeks to promote awareness of conserving the earth's environment and we believe that Saint Lucia, with its unspoiled beauty and unique variety of species, is the ideal place to start leading our conservation efforts."

Sarah Adams on StLucia.com
Extensive research was carried out and material gathered before the many apps and displays were developed. The centre was created to deliver a serious message about the fragile environment: Global warming, habitat destruction, energy waste, pollution, loss of species – these are challenging subjects to deliver to holiday makers or casual visitors. So, the brief for the project was to create an experience that, while being informative, was above all entertaining, absorbing and thrilling. We hoped that every visitor would take away a positive feeling of what individuals can do to tackle some of the problems the world faces. Research was essential in the first stage of development. For the Centre to be a success the Key Issues had to be understood and then the information distilled into a form that could be communicated in a short timescale.
Key technologies were identified, and exhibit concepts began to take shape. The task was daunting. We had five months to design and install a complete turnkey package.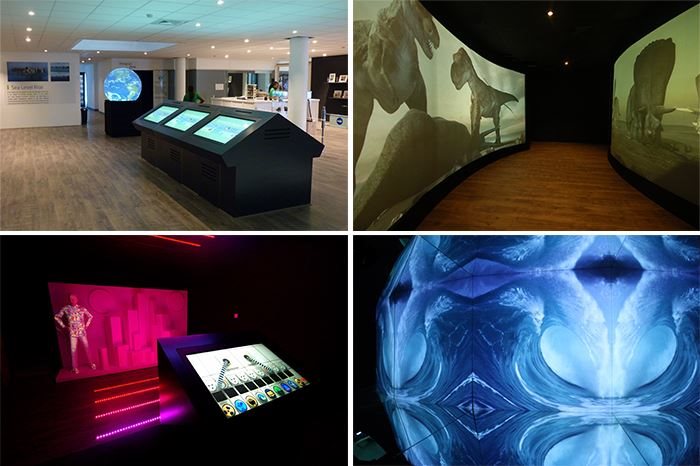 This included inventing five completely original touch screen games, creating a cohesive design style that could be used in a range of different applications, designing several interactive applications and creating new software applications. Add to this an effects theatre, a life size Peppers Ghost and a Mirror Sphere and the scale of the task becomes apparent. The exhibits also had to work under a central control system.
His Royal Highness Prince Charles was filmed at his home in London giving a short talk about the urgent needs to address the problems facing the planet. This was then presented as a Peppers Ghost in the centre.
Innovative, unique games were created that incorporated projection mapping with touchscreen interfaces. Managing resources, creating the ideal conditions for a hurricane, protecting endangered species, deciding future energy generation, were subjects that were made into entertaining displays and games. Other immersive and unique displays covered topics such as biodiversity and local wildlife preservation.
An effects theater packed with technology (lasers, wind effects, deep vibrations, strobes, LED lighting and three-sided video combined with a dramatic audio track and narration) provides a thrilling and uplifting finale experience.
---

Get in Touch
---
Concept Design – Exhibition Design -Interactive Games – Interactive Display – Content Production – Projection Systems – Display Systems – Lighting – Lasers – Special Effects