The Stone Forest is a beautiful natural phenomenon, situated in South-West China, some 86 km from Kunming in the Yunnan province. The Yunnan Tourism Group Co Ltd had identified the need to re-enforce the Stone Forest's position as a national tourist destination.
It was felt that a way had to be found to attract additional visitors, and keep them for longer, thereby improving revenues at the existing hotels and retail outlets.
Any developments would have to be in consideration of the delicate Eco-structure of the area and have a minimal impact on the natural environment. The stones are a result of millions of years of complex geological evolution: calcium depositing, erosion, and continental shifting.
An award-winning visitor experience divided into five areas:
The Lotus Lake
This is the setting for an epic show based around four giant water screens situated on the lake. The story is based around a local legend about a beautiful girl named Ashima, her lover Arhei, and the evil Arzhei, who tries to steal her away, ultimately causing her tragic death by drowning. The 'Final Conflict' show sees the spirits of the lovers unite and portrays battles with the evil Arzhei who, with the aid of terrible demons, tries once more to posses Ashima. The tempestuous story is brought to life through video projection onto four water screens, and the use of lasers, pyrotechnics, flame effects, a variety of intelligent lighting and surround sound.
Walk Through Experience
This covers several areas but is concentrated most heavily on the 'Ashima Garden'. We have used intelligent effects lighting, architectural lighting, and projection. As visitors walk along the paths, the stones are enhanced with ever-changing colours and projected images. The ambient music is accurately positioned with the use of programmed surround sound, delivered through speakers with the appearance of rocks.
The Ashima Lake
Here we designed a gentler show, portraying Ashima and her love for Arhei. Images of doves are choreographed with dancing water fountains and lighting effects. The show uses one water screen and a video projector. The overall effect is one of peace and serenity.
Willow Lake
We created a stunning feature using beautifully lit fountains which recreate the shape of willow trees.
Motion Simulation Theatre (56 Seats)
The ride film commences with a computer-generated sequence portraying the formation of the area, millions of years ago. The film provides a view of other parts of the 'forest' which the visitors may not have seen, propelling the audience into the air for a ride over and through the stones, over lakes and waterfalls and through canyons. A variety of techniques were employed to create the illusion, including steadycam, and hovercam.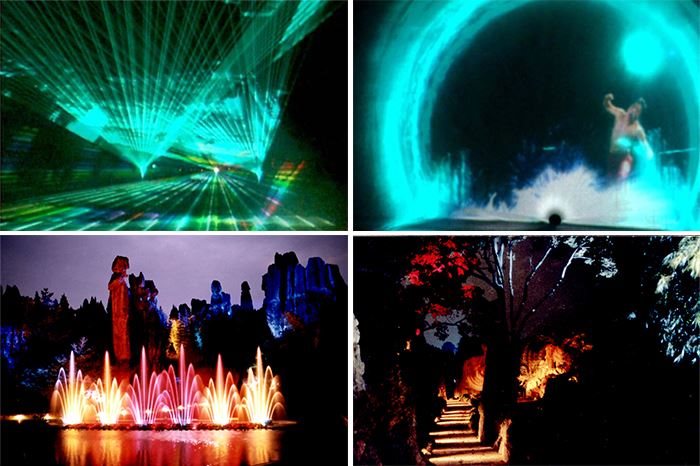 Winner of the prestigious THEA award for outstanding achievement
---

Get in Touch
---